Our portfolio includes drug candidate for tumor in pre-clinical stage. 
TARGETING BONE DISEASE BY A TROJAN HORSE
Local Drug Delivery In Tumor
A novel system for targeted delivery of anti-tumor drugs using bone minerals as a recruiting platform.
We incorporate approved tumour killing molecules with high accretion to nano and micro particles of  the bone minerals i.e. Hydroxyapatite (HA). In addition a systemic loading of a specific drug will seek, bind and exert a local biological effect. This increase efficacy of targeted drug delivery without causing side-effects in other tissues.
Biomaterials based local or targeted delivery of chemotherapeutic agents is one of the important research areas of our lab. Recent clinical studies have shown that intensifying chemotherapy by combining several anti-cancer agents together does not improve the event-free survival in solid tumors but causes more side effects. Our aim is to send the drugs to the targeted site (tumor tissue) by using hydroxyapatite (HA)-based materials to act as a recruiting moiety for systemically circulating drugs and achieve more efficient tumor-killing with less off-target effects.
Ever since the use of aggressive chemotherapy drugs was introduced 30 years ago, the event free survival in patients has significantly improved. However, an increasing drug resistant pattern in sarcoma patients has been seen in the past 5-10 years. Sarcomas has a microenvironment with a high interstitial fluid pressure and neo-angiogenesis blocking the drugs reaching the tumor tissue, which leads to both inefficient tumor killing and drug resistance. Systemically circulating anti-cancer agents tend to accumulate in the liver, lung and heart causing severe side effects.
No new drug has been discovered for the treatment of sarcomas (in particular, osteosarcoma) and inventing a new anti-cancer agent need more than 15-20 years of lab research and clinical trials.
Thus, using biomaterials to deliver already approved repurposed drugs more efficiently might be the alternative for a rapid translation from the bench to bedside. Furthermore, providing a HA based recruiting platform that can lead to accumulation of high doses of the chemotherapy drugs opens up new avenues of targeted tumor delivery and minimizing side effects.
Our previous data have shown local controlled and sustained delivery (up to 28 days) of doxorubicin (DOX) using an HA based biomaterial has a better tumor-killing effect than systemic injection. Further, various anti-cancer agents combing with DOX are being explored in the lab now to achieve a spatial release to cover a longer treatment period. Later locally implanted slow resorbing hydroxyapatite could be used as a Trojan horse within the tumor to reload circulating apatite-binding drugs like DOX in the long follow-up to prevent recurrence and complement present systemic treatment.  
Our current areas of research in the field of bone cancer include:
Spatio-temporal controlled local delivery of various first-line anti-cancer agents
Explore the interactions between anti-cancer agents and hydroxyapatite to screen for more HA binding drugs
Explore intracellular delivery of anti-cancer agents by nanomaterials to boost its efficacy
Construct human sarcoma in animal models to test the efficacy of our treatment on both immunodeficient and immunocompetent mice, including subcutaneous xenograft, orthotopic xenograft and patient derived xenografts (PDX).
Patent Application: Doxorubicin + ZA bound to nano-sized HA particles. Application Number: 2051170-5 filed on 05 October 2020 with agent Zacco, Denmark.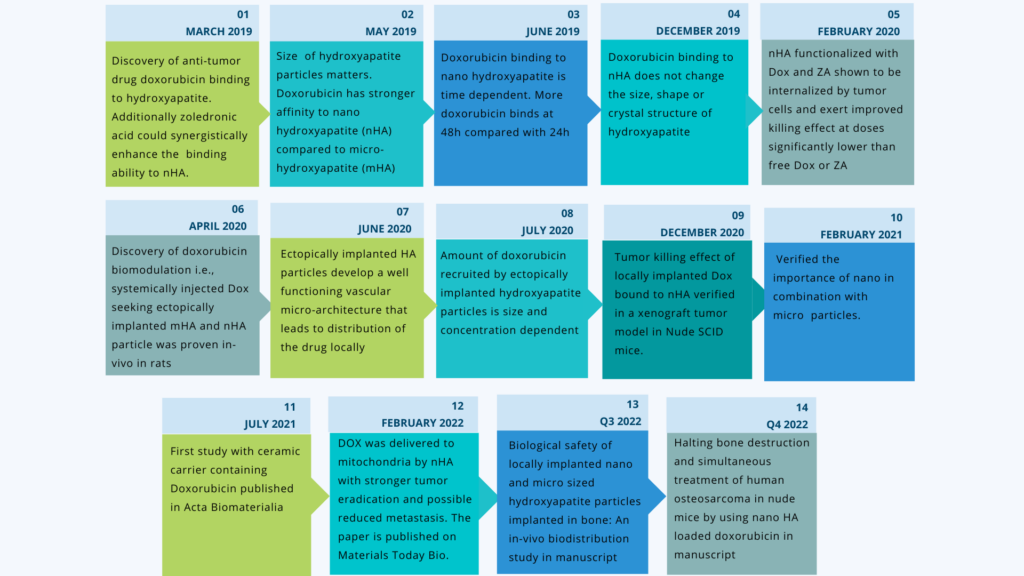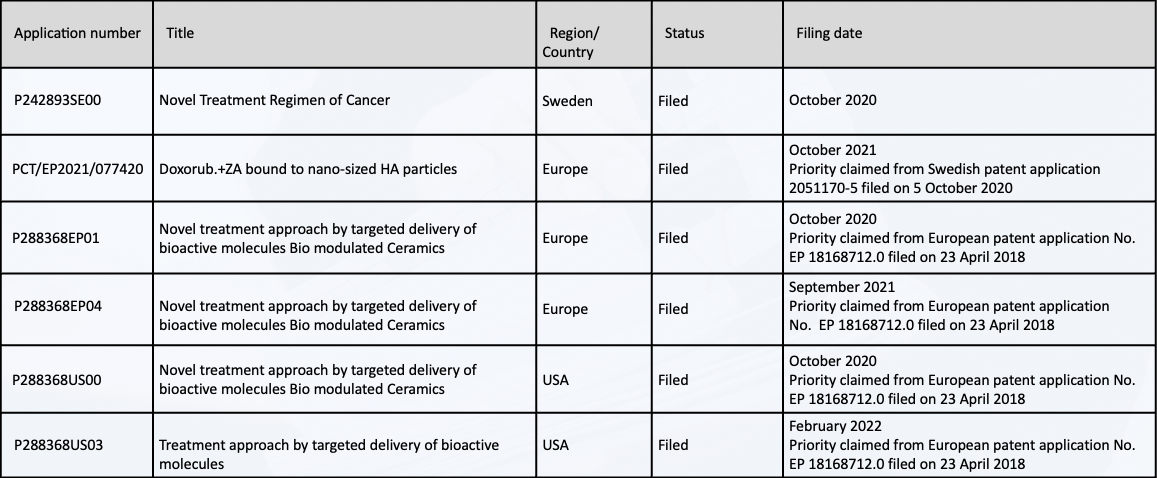 Anders Hjelmencrantz of Zacco A/S assists us in managing our intellectual property portfolio. Anders' patent practice extends over a range of technologies within the area of life science spanning from general and medicinal chemistry, environmental chemistry, green tech/clean tech, nutraceutical and pharmaceutical formulations, cell biology, immunology, cancer research to stem cells.
Besides drafting and prosecuting patent applications, Anders has experience with FTO analyses, patentability analysis, competition overview, prosecution of patent applications and communication with PTOs/foreign agents, filing and prosecuting oppositions and appeals, assisting in licensing negotiations.